Welcome Reception
Wednesday 22 September at Elite Hotel Carolina Tower.
We serve a drink and a light snack during a mingle get-together the evening before the conference starts.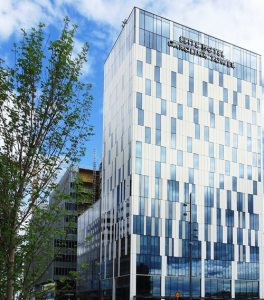 Photo: Holger Ellgaard, licensed Wikimedia Commons
Conference dinner
Thursday 23 September at the Nobel Prize Museum, we gather for a guided tour of the museum followed by a three-course dinner in the facilities.
Nobel Prize Museum
The Noble Prize has been awarded for over 100 years, all in accordance with the will of Alfred Nobel. At the Nobel Museum the Noble Laureates and their visions are reflected in unique objects and films. Here you can learn about the Nobel Laureate's exciting journey from an idea to the Nobel Banquet, a journey with success and failure, with courage and persistency but also with banquet and rich rewards.
More details about the museum, at website nobelprizemuseum.se/en/
Additional cost. The dinner is not included in the registration fee.
Contact
Conference Secretariat
Academic Conferences
e-mail: ATP1A3-2021@akademikonferens.se
phone: +46 18 67 15 33 or +46 18 67 10 03

Important dates
Registration closes August 21 2021
Arranged by
Karolinska Institutet,
Karolinska University Hospital
KTH
AHC Sverige